The Father's House International Conference is almost here! The nations are arriving one-by-one!!! To God be the Glory! (July 14-17)
TFH Honors the Life of Dr. Earbin Stanciell
Dr. Earbin and Phoebe Stanciell
Los Angeles June 15, 2016 - One of our dearest friends on earth finished his race. I met Dr. Earbin Stanciell in Eastern Europe in 2004 when Earbin, Vance Murphy and I traveled with Heidi Baker for twelve days in several cities in Ukraine. A special friendship was birthed with Dr. Earbin and he became our dear, dear brother. He was a medical doctor and psychiatrist, but of most importance to Dr. Earbin, he was a minister of the Gospel. He will be greatly missed and the work he began will be carried on by his precious wife Phoebe Stanciell, we give our Father praise and glory for such a gift of such a brother!
Our girls baking cookies for Regency
Save the Dates - Our Annual International Conference July 14-17
Please pray for our Middle East Director Celia Klaver
Michelle Bond's World Race
Pastor Lisa and Michellle Bond

The Bond Family

It was an honor to bless and pray for Michelle Bond as she heads off to the nations of the world.

Eleven nations in eleven months. Beautiful feet!



Updates from The Father's House
2015 International Summit
Our Vision
"Religion that God our Father accepts as pure and faultless is this: to look after orphans and widows in their distress and to keep oneself from being polluted by the world." James 1:27
Our Mandate
Like Joshua and Caleb, we have been able to spy out the land in the Ukraine, India, Guatemala and Brazil. We have seen the oppression of many little ones who are lost without hope. Our mandate from God is to rescue the little ones and bring them to "The Father's House" where the orphan spirit is replaced by the spirit of adoption. He will raise up a company of warriors that the world has forsaken.
Vance Murphy, Lisa Bourland & The Father's House Team
Click on Picture of Pastor Lisa to Hear Latest Audio
These are your last minutes here on earth! How are you choosing to spend them?
BHOP (Bethlehem House of Prayer
BHOP - Surpresa and Celia in Jerusalem
Pastor appreciation Celebration (Pastor Tootie and Pastora Lisa)
Pastor Appreciation
Our Children's Director Kellie Brantley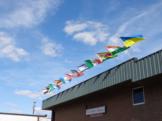 The Father's House International Headquarters
Then Jesus came to them and said, "All authority in heaven and on earth has been given to me. Therefore go and make disciples of all nations, baptizing them in the name of the Father and of the Son and of the Holy Spirit, and teaching them to obey everything I have commanded you. And surely I am with you always, to the very end of the age."



Matthew 28:18-20